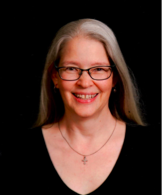 Caroline E. Jones has studied the work of L.M. Montgomery since she was eleven, when her grandmother handed her a well-worn copy of Emily of New Moon. She earned her MA from the Graduate Program in Children's Literature from Hollins University, focusing her thesis on the Emily trilogy. She earned a PhD in English Studies, specializing in Children's Literature, from Illinois State University and has published on sexuality in children's and young adult literature and the role of the hero in the Hunger Games trilogy. She has also written on motherhood, grief, and class in Montgomery, and her most recent publication is "Idylls of Play: L. M. Montgomery's Child-Worlds" in Children's Play in Literature: Investigating the Strengths and the Subversions of the Playing Child (Routledge 2018), edited by Joyce E. Kelley. She attended all the L.M. Montgomery Institute conferences from 2008 to 2018, was online for various 2020 events, and hopes to be back on the Island for as many conferences as she can manage, starting in 2022. She works as an editor in Austin, Texas, USA.
What excites you about being a Journal editorial board member?
I'm excited about seeing the many, many types, formats, shapes, and directions people are going with Montgomery's work. I'm thrilled to be part of a Journal that provides a forum for creative and reflective responses to and analyses of her work, as well as scholarly work.
What would you like to see the Journal contribute to L.M.M. studies? 
By continuing the ongoing work of bringing awareness of Montgomery and her work and its stunning contemporary relevance to a wide audience, including fans and academics and everyone in between.
Favourite lines from L.M. Montgomery? 
"I am pretty fond of good eating":  Emily Byrd Starr, on why she wouldn't make it as Anzonetta B. Peters (ENM 100, Bantam 1983); this is tied with "Now mind you, don't either of you stick your head between the bars of the gate" which became a byword in my family (as "Don't stick your head between the bars of the gate!') well before I was born (Magic for Marigold 172, McClelland & Stewart 1989 ed.).
Which Montgomery place, either fictional or site, is the best?
The home site, for sure; fictional New Moon is a close second.
Who is the best kindred spirit?
Ilse, because she has a strong personality--I'd love to read an Ilse-centered story (fan-fic, anyone?).
Best outfit in the Montgomery story-verse? 
Anne's pale green dress with the rosebuds embroidered on the floaty over-layer.
Wittiest line? 
Who can choose? I cannot!!
Who is the mother-figure of the year? 
Margaret Penhallow of A Tangled Web
Which is the most underrated Montgomery text? 
At this moment, for me, it's Pat of Silver Bush
Most unexpected intertextual moment? 
Emily of New Moon in Russian Doll
What is you favourite Montgomery adaptation? 
Anne (with an E), but I also like Jane of Lantern Hill with Sam Waterston