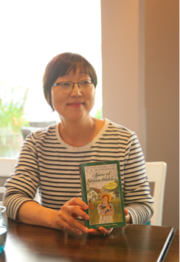 Since the early 90s I have been writing for various Japanese, and some English, publications, on L.M.M. with a focus on her life in Ontario and her fans, as well as objects, people and places & books that she loved. Starting with the content from my website "L.M.M. in Ontario" I published the book Akage no An o kakitakunakatta Mongomeri (Anne and After) in 2000. Over the years, I have enjoyed helping students and scholars research L.M.M. and her life, as well as sharing my discoveries. Since 2016, I have returned to Japan each fall to conduct a series of lectures at universities and libraries on various topics I think are important, but under researched
What excites you about being a Journal editorial board member? What does being an editorial board member mean to you? 
As for your request for what excites me about being a board member, what excites me is that I am able to help people understand and learn more about L.M.M. from the perspective of an L.M.M. enthusiast, particularly one who is familiar with L.M.M's fans in Japan. Since 2014 I have been giving annual talks to audiences across Japan about L.M.M. which have been well received, and I am deeply aware of Anne's ongoing popularity in Japan.
Where do you see L.M.M studies in 50 years?
I work at a reference library in Toronto, and looking back, the last three decades have been a wondrous experience in learning about L.M.M. and responding to queries about L.M.M. from all over the world. And at the same time L.M.M. studies has grown tremendously owing to the activities of the L.M. Montgomery Institute and the many scholarly publications they have supported. As Anne suggests there's so much scope for the imagination in the world, and I believe that there's also so much scope for L.M.M. studies over the next 50 years. L.M.M. is not only an icon of Canadian literature, but her work has influenced many writers and readers internationally since Anne of Green Gables was first published. Unfortunately, however, L.M.M's life is much less known to the general readers of Anne than it should be. 
What is your favourite line from L.M. Montgomery?
"Open your doors to life, and life will come in" (Anne of Windy Poplars).
Is there a food or drink from Montgomery you'd most like to try ?
I want Rebecca Dew to make a pound cake for me based on Miss Ellen's recipe, an old English family recipe, requiring thirty-six eggs! That would be a high calorie cake, I'm afraid.
Who is the strangest character from Montgomery?
One of the unique characters is Mrs. Samuel who is mentioned by Miss Valentine Courtaloe in Anne of Windy Willows/Poplars and who uses her husband's tombstone for a baking-board!  It's spooky that the cookies she bakes have a part of letters and figures from the epitaph on stone. I wonder if a person like Mrs. Samuel could really have existed in Montgomery's times.
Which work would you most like to see adapted and what medium would you like to see it adapted to?
I would love to see a film version of Blue Castle.