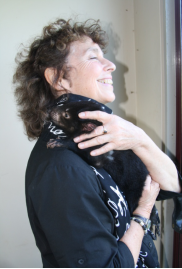 Deirdre Kessler is a former poet laureate of Prince Edward Island and is author of more than two dozen books of poetry, nonfiction, children's novels, and picture books, including award-winning Lobster in My Pocket and Brupp Rides Again. Her memoir, Mother Country (Oberon Press), details the influence of Montgomery's Island on her psyche. Kessler was involved with the L.M. Montgomery Institute from its early days, and her essay, "L.M. Montgomery and the Creation of Prince Edward Island," was published in Toronto UP's L.M. Montgomery and Canadian Culture (1999). Her interest in Montgomery began when she read Anne of Green Gables to her grade 3 class at a rural Island school. Kessler is a full-time writer and teaches part-time with the UPEI English Department; as well, she is a certified yoga teacher and teaches yoga.
What excites you about being an editorial board member?
There clearly is and has been high and unflagging interest in Montgomery studies; as a Journal editorial board member I can participate formally in selecting contributions to Montgomery studies and stay au courant with subjects of interest to present-time readers, scholars, and artists.
Which Montgomery place, either fictional or site, is the best?
A favourite fictional location of mine in a Montgomery novel is the haystack in Emily Climbs. 
Where is the most interesting place you've been while reading Montgomery?
The most interesting place I've been when reading Montgomery was on a low stool in a corner of Vernon River School, surrounded by 24 grade three children. We were reading a chapter or two a day of Anne of Green Gables.