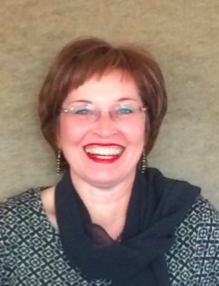 Idette Noome has been lecturing in the Department of English at the University of Pretoria in South Africa since 1985. She specialised in medieval and Renaissance literature, but added a special interest in novels for girls written in the late 19th and early 20th centuries, and has developed courses on copy-editing. She is also interested in translation studies. She has published on L.M. Montgomery and the bildungsroman, and the depiction of pets in Montgomery's work. Her current interest in Montgomery is the interface between her work and that of Olive Schreiner, a Victorian South African writer.
What excites you about being a Journal editorial board member?
Being a board member is exciting because of the amazing contacts with top L.M.M. scholars and the cutting edge of L.M.M. research in a constructive and nurturing environment of wonderful (and rare) academic generosity which welcomes both established and new scholars in the field to bring new insights into L.M.M.'s life and work.
What would you like to see the Journal contribute to L.M. Montgomery studies?
I would love to see the Journal continue to explore more and more facets of this nuanced and intriguing author, whose work can be opened up in so many new ways.
Where do you see Montgomery studies in 50 years?
Leading the way on Canadian literary studies and in studies of women's writing in general!
What is your favourite line in any Montgomery novel? 
Jane went out and up and sat on the hill . . . "to get back into herself," as she expressed it (Jane of Lantern Hill). Don't we all need to do that? I love the way Jane finds pleasure in the simplest and actions to do just that.
Is there a food or drink in an L.M. Montgomery novel you would like to try? 
Wild strawberry jam from Jane of Lantern Hill because we do not have wild strawberries in my country.
Who is the best love interest?
Jingle = Hilary Gordon (Pat of Silver Bush)
Which Montgomery place, either fictional or site, is the best? 
The Island in The Blue Castle with Lantern Hill as a close second.
Best side-kick/kindred spirit 
Cousin Jimmy (Emily of New Moon)
Favourite fictional Montgomery couple 
Valancy and Barney (The Blue Castle)
Funniest moment
Jane leading the lion and people's reactions (Jane of Lantern Hill)
Best animal (pet or wild animal) 
Dog Monday (Rilla of Ingleside)
Best outfit 
Valancy's green dress worn with the red beads (The Blue Castle)
Wittiest line  
Miss Cornelia: "I could have had him any time these twenty years if I'd lifted my finger. But do you suppose I was going to walk into church beside a perambulating haystack like that?" (Anne's House of Dreams)
Mother (figure) of the year
Marigold's mother (Magic for Marigold)
Father (figure) of the year
Dad in Jane of Lantern Hill
Most interesting place you've been when reading L.M.M.
 A tent in the Kruger National Park in South Africa
Languages you've read L.M.M. in
English, German, Dutch, and snippets of French, and I tried my hand at translating a few pages of Anne of Green Gables into Afrikaans to see how it might work, coming up with two very different versions of my test passages.
Who is the worst character? 
Oooh let's not go there! She has a couple of truly nasty people
What is Montgomery's most underrated text?  
Kilmeny of the Orchard
What was Montgomery's greatest accomplishment? 
Her ability to capture the complexity of life, especially women's and children's lives, with all the poignant paradoxes of dreams and hopes and successes and disappointments, and leaving overall a sense of both human resilience and the fragility of every moment - through our living with, becoming friends with, her characters, she has made us SEE much of what would otherwise have remained in the periphery of our vision, and making us see through the lens of her fiction, she pulls our own experiences into the light, for us to experience more fully.