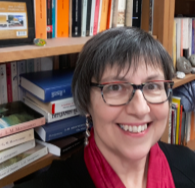 E. Holly Pike is an associate professor in the English program at Grenfell Campus, Memorial University of Newfoundland, where she teaches literary history, women writers, and children's literature. She has published on L.M. Montgomery in several edited collections and has given numerous conference presentations on Montgomery's work. She is currently working with other Montgomery scholars on two edited collections of essays and continuing her research on Montgomery's freelance career. Her other research interests include Jane Austen, Elizabeth Gaskell, and L.M. Alcott. 
What does being an editorial board member mean to you?
I feel it is an honour to be on the editorial board at the start of this venture and I'm excited about the possibilities. Study of L.M. Montgomery is already a flourishing field and the Journal of L.M. Montgomery Studies is a recognition of its significance.  Like the Brontës and Austen, for whom dedicated journals exist, Montgomery is the subject of both popular and academic interest, so this seems like a natural progression.
What is the funniest scene in any Montgomery novel?
To me, the funniest scene in a Montgomery novel is Emily interviewing Miss Royal in Emily Climbs.  I still laugh out loud every time I read it.  I think it's so funny partly because Montgomery breaks the narrative pattern of the novel to present it.  It's laid out on the page like a little play, with the stage directions in the present tense, and the repetition as Emily writes down exactly what Miss Royal has said, only changing the pronouns, makes every word sound like a condemnation.  The contrast between this very stiff exchange and the frantic activity of the dog is priceless.
What is the best outfit in the Montgomery story-verse?
The best outfit is what Peg Bowen wears to church in The Golden Road.  She is wearing "her usual short drugget skirt, rather worn and frayed around the bottom, and a waist of brilliant turkey red calico. She wore no hat, and her grizzled black hair streamed in elf locks over her shoulders. Face, arms and feet were bare—and face, arms and feet were liberally powdered with FLOUR" (Chapter 21). 
Which of Montgomery's novel is most underrated?
The most underrated Montgomery text is A Tangled Web—no one seems to give it much attention. As a teenager I read my copy so many times that it is fell apart.  But then, so did my copies of the Emily books. And the Pat books.