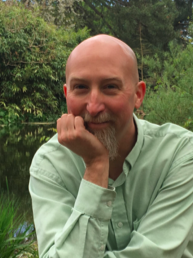 Joe Sutliff Sanders is a University Lecturer in the Faculty of Education at the University of Cambridge. His award-winning essay on sympathy in girls' novels from the turn of the century went on to become a chapter in his monograph Disciplining Girls: Understanding the Origins of the Classic Orphan Girl Story (Johns Hopkins, 2011), which examined the transition from sentimental women's novels of the nineteenth century to girls' fiction of the early twentieth century. Montgomery features prominently in the book, taking up two chapters herself and appearing frequently throughout the others. He has taught undergraduate and graduate courses on girls' fiction using Montgomery as the key author and directed graduate projects on Montgomery. His favorite book is Emily of New Moon and had a very serious disagreement with his wife over whether they could name their daughter Emily (he lost).
Who's the worst character? 
This has to be Dean Priest, doesn't it?
Best/most unexpected intertextual moment? 
One of my other great loves is comic books. There's a superhero named Firestorm who was one of my favorites when I was a boy. Firestorm, created in the late 1970s, had these amazing peasant-blouse sleeves that I adored (and still do), and one day I realized that I might be the only person in the world situated to observe that both Anne and Firestorm prefer puffy sleeves. For the record, I agree with them.