After being chosen as the Journal of L.M. Montgomery Studies (JLMMS) Virtual Scavenger Hunt winner, Zoe Kempf-Harris enthusiastically participated in an interview, conducted by JLMMS Student Assistant Sarah Freeburn, that explores Kempf-Harris's relationship with L.M. Montgomery and Prince Edward Island. 
Zoe Kempf-Harris is a Ph.D. student in English at the University of Virginia, and she holds a B.A. from Yale University. Her research centres on modernist British literature, navigating issues of place, inheritance, and material objects, often in transatlantic capacities. When she is not actively seeking to make a literary pilgrimage, she enjoys playing violin and writing in a variety of forms.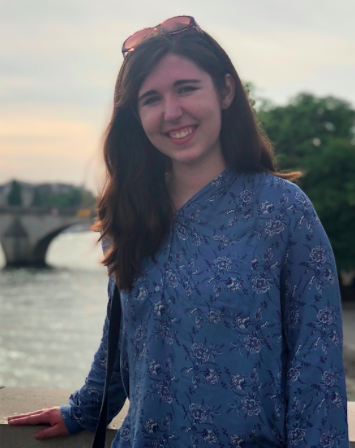 Sarah Freeburn (SF): Is Montgomery present in your everyday life?
Zoe Kempf-Harris (ZK-H): For a long time, I felt Montgomery's world directly parallelling my own. Like Anne, I grew up using too-big words, and I learned to hone my excitement along a similar timeline to hers. Big life events helpfully corresponded with installations in the series, "epochs" in Anne's life. Anne of the Island accompanied me to college (where I declared my English major on Montgomery's birthday), and Anne of Windy Poplars was the only book I managed to pack on a transatlantic flight to likewise teach at a boarding school. Whenever I thought a place "scenic" in my childhood, I naturally would start calling it "Idlewild." Even now, I affectionately call my old pink house "Patty's Place," even if I am still searching for the perfect china dogs for the mantel. Really, the strongest divergence between Anne and myself is that I do not have red hair—though, in an ironic twist, Anne made me want it desperately.
In a more pragmatic day-to-day awareness of Montgomery, I'm now an English Ph.D. student studying the significance of place in modernist novels. It is easy for me to trace my first fascination with places back to Prince Edward Island, experiencing rooms and spaces through Anne's own affinities. The alluring power of a spare room should never be underestimated. 
SF: What is your favourite season to read Montgomery's works?  
ZK-H: While I fondly remember long car trips in the summer with Rilla of Ingleside, I'd say autumn lends itself to the best Montgomery reading. You combine the start-of-school excitement with those lovely October passages, and there is something so complete in the reading experience, as though the fall colours round it out. 
SF: Have you ever been to PEI or Montgomery-themed sites? If you have, what was your experience of these? If not, where would you most like to go? Why?
ZK-H: What's lovely is that Montgomery's significant places are often just small snippets of the island's overall nature—and so anywhere I turn would inevitably evoke Montgomery's writings. I imagine I'd feel especially moved near the New London Lighthouse or by Thunder Cove beach, as well as in any place that earns itself an invented name.
Of course I would have to visit Green Gables, as a must, and take in all that the museum offers there. And wherever else I might go once I get there, I hope I arrive by train so I can see the iconic platform where Anne arrives, where the best mix-up of all time gets auspiciously overlooked1.
SF: If you have been to PEI, what description by Montgomery do you think best describes the island? If you have not been to PEI, which Montgomery description is your favourite?
ZK-H: I spend significant time thinking about Hester Gray's garden and how the perfect afternoon can be constructed around such an idyllic setting. The flowers hold meaning as more than mere backdrop, and the garden offers itself as scaffolding for the book's fullest moments. Anne recognizes the scene as "the most beautiful poem [she] ever saw," and I will not disagree with her here.
SF: How long have you been aware of the Journal of L.M. Montgomery Studies or other L.M. Montgomery Institute (LMMI) activities?
ZK-H: I became aware of LMMI and the Journal sometime in the past year or two I think, and I was thrilled to discover this community. I was able to attend the Rilla at 100 event, which thoughtfully honoured Montgomery's work while bringing it into conversation with the present moment under the apt umbrella of "Resilience." And the Virtual Scavenger Hunt itself offered a fun window into the wonderful scholarship being done in the field—a true pleasure!
SF: Have you attended a LMMI conference before, or are you planning on attending the 2022 conference?  
ZK-H: All pragmatics willing, I am very much hoping to attend the 2022 conference! It will be my first time in PEI, and I can think of no better occasion.
SF: Who is your favourite L.M. Montgomery character? Why? 
ZK-H: A resounding answer of "Anne!" is instinctive. Still, I've been thinking a great deal about Captain Jim recently, as he strikes me as one of the most humbly beautiful characters in literature. Aunt Josephine holds the titles for being the sharpest and most generous, and little Elizabeth (in all her incarnations, except maybe Lizzie!), the most ethereal.
Of course, I was lucky enough to share the 1985 Anne of Green Gables film with my best friend (a kindred spirit herself!) just this summer ... so I would be remiss if I didn't, in my answer, honour Matthew and Marilla, who endeared themselves to my friend and re-endeared themselves to me through sheer force of decency and heart. Their love can manifest in the simplest and strangest gestures—in brusqueness or in twenty pounds of brown sugar—but they so clearly belong to the "race that knows Joseph," and that is just as evident on the first watch as on the fiftieth.
Below is a sonnet inspired by Anne of Green Gables that Kempf-Harris has graciously shared along with her interview:
"To Anne of Green Gables"
I slept on sills to dream of fairy stuff,
you showed me apple trees make bowers too,
where blossoms bend their tender ears, accrue
our prayers within them (longed-for sleeves that puff).
You named your reflection Katie Maurice, I named
my reflection Anne, took Idlewild to mean
the pit out back, where violets straggled, leaned
color-drunk against no trellis, springtime lamed
by too much splendor. We talk too much,
make joy of too-big words and plum preserves,
dye red hair green and brown hair red
when all we crave are gables—quaintest crutch:
call us Cordelia—such grace I won't deserve
until I name what's kindred in my head.
Congratulations again, Zoe, on receiving the 2021 Journal of L.M. Montgomery Studies Virtual Scavenger Hunt grand prize!