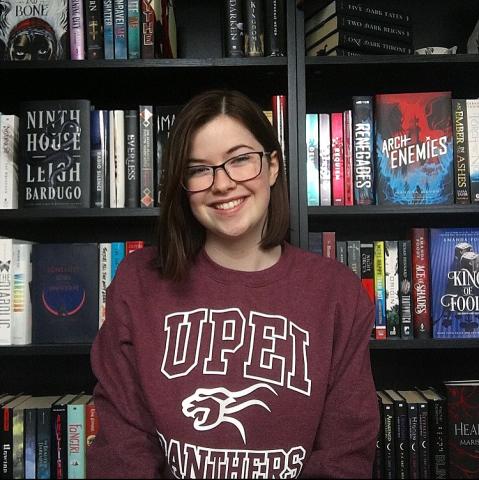 The Journal of L.M. Montgomery Studies welcomes new Editorial Assistant Eve Murphy! Eve is a third-year Bachelor of Arts student at UPEI, majoring in Psychology.
How did you first encounter L.M. Montgomery?
Being brought up on Prince Edward Island, I have always felt that Anne is part of my life. We regularly went for school field trips to see the Anne of Green Gables productions at the Confederation Centre of the Arts in downtown Charlottetown, but it was in my teenage years, when I stumbled across a scene from the TV adaptation Anne with an "E" that I really connected with Anne and her story. I watched the show, falling in love with every character. The next natural step was to read the books to see how Anne is portrayed in words. Anne is just as lively, personable, and magical on the page as she is on screen. It was no wonder to me how the producers had created such a character – L.M. Montgomery had done their work for them. Montgomery has become a massive inspiration to me as an aspiring writer, especially with her roots here on the island and her positive global impact.
Who is your favourite L. M. Montgomery character, and why?
It just has to be Anne. When I was little, I was a bit of a nightmare for my parents. I got into everything I was not supposed to, taking their attempts to keep me out of trouble as a challenge. I was never mean or bad intentioned, but my curiosity and determination kept my parents on their toes. I also had a vivid imagination, with each challenge turning into a new adventure. I saw the world with the same magic Anne does and felt that same special connection to my environment. Even though I was a teenager when I truly connected with Anne, she resonates with my inner child.
What most appeals to you about L.M. Montgomery and her work?
Montgomery's way of writing is timeless. Anne and Emily have unique and valuable talents and interests, emotional intelligence, and developed morals. Montgomery's characters are complex and undergo learning processes through trial and error. That authenticity resonated with me because Montgomery's characters reflect some of the more difficult feelings I remember having as a child.
How does your work at the Journal relate to your studies?
My choice to study psychology is not unrelated to my love of reading and writing. I am very interested in storytelling, and psychology lends itself well to understanding the mind in a way that helps with storytelling. In my studies, I have learned about creativity, relationships, and linguistics, and my arts degree has left room for me to take some amazing English courses. Eventually, I hope to have a career that either integrates psychology and writing or to live a life that leaves room for both of these passions.
What excites you about working on the Journal?
I am most excited to be surrounded by people who are passionate about reading, writing, and literature. Everyone at the Journal shares a personal relationship with Montgomery and her works and it creates a wonderful foundation for a team. I am thrilled at the opportunity to contribute and be a part of that team.
Banner Image: Derived from the cover of The Country Home Vol. 60, no. 6, June 1936. kindredspaces.ca, P080 CoH 1936.06 S.