The Journal of L.M. Montgomery Studies is excited to introduce another new student assistant, MacKenzie Cutcliffe. Mackenzie is an Applied Communications, Leadership, and Culture student working on a minor in Theatre Studies and a Business Certificate.  
Welcome MacKenzie!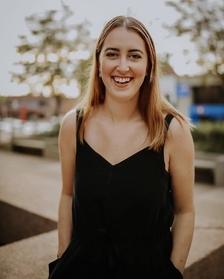 1. What are you most excited to learn from working at the Journal?
I am excited to learn from all of my supervisors and fellow student assistants! Everyone has such a unique connection to the Journal and they all bring such different skills and passions. I look forward to the conversations I will have about L.M. Montgomery and her work. I certainly have lots to learn!
2. When were you introduced to L.M. Montgomery? 
My first experience with L.M. Montgomery was when my mom would read the Anne of Green Gables novels to me before bed and when my cousins and I would go to see the musical every summer. When my grandfather found out I was into Anne of Green Gables, he told me all about L.M. Montgomery because she was friends with my great grandmother! There are even letters between the two floating around in my family.
3. Have you been to any theatrical adaptations of Anne of Green Gables? If so, how do you think they reflect the novel?
I have seen hundreds of Broadway shows but Anne of Green Gables will always be one of my favourites! The story works so well set to music and dance. I always say musicals are written when the emotions are so strong that the characters can't express themselves any other way but through song and dance. What's more Anne Shirley than that?!
4. Who is your least favorite character written by L.M. Montgomery?
If I'm being honest, I hated Gilbert as a child! I didn't want Anne to grow up and in my little head Gilbert represented that. Reading the series as an adult, I have a totally different view and I love Gilbert now!
5. Is there a time of day that you consider the best to read L.M. Montgomery and why?
I love reading at sunset on the beach! Especially PEI red sand beaches where the sun reflects off the water turning the soil a deep crimson. "You never know what peace is until you walk on the shores or in the fields or along the winding red roads of Prince Edward Island in a summer twilight when the dew is falling and the old stars are peeping out and the sea keeps its mighty tryst with the little land it loves. You find your soul then." - L.M. Montgomery 
Acknowledgement: Banner image derived from Book cover of Janet's Rebellion. 1899. Kindred Spaces.P187 MM 1899.12 P. Web. April 18 2021.