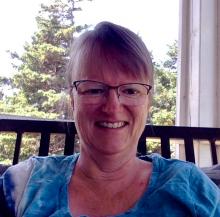 The Journal of L.M. Montgomery Studies welcomes new Editorial Assistant Barbara Rousseau! Barbara is a Master of Arts in Island Studies student at UPEI, researching island ecosystem resilience. She moved to Prince Edward Island in 2020, having previously worked in software project management in Ottawa, and now divides her time between Charlottetown and beautiful St. Peters Harbour on PEI's northeast shore.
How did you first encounter L.M. Montgomery?

Like many Canadian girls, I devoured the Anne series and bought my own set of the books as soon as I could afford to. I also remember watching the Sullivan series in the late 1980s, followed by several seasons of "Road to Avonlea". Only since I've started studying at UPEI have I followed up with Montgomery's journals, memoirs and letters, which give me a sympathetic understanding of the author.

Who is your favourite Montgomery character, and why? 

I love Anne, especially the mature version in Anne's House of Dreams, but my favourite character has always been the kindly Captain Jim. Maybe I always knew I would move to PEI and live near a lighthouse! And as an adult I've come to appreciate the characters of Mrs. Rachel Lynde and Miss Cornelia Bryant, who, though outspoken, have big hearts underneath.

What most appeals to you about L.M. Montgomery and her work?

The quality of her descriptive language – I would so like to be able to describe the natural world around me in a such an evocative manner.  Montgomery's writings captured the essence of the Island that helps readers appreciate and want to preserve the environment for future generations.

Have you seen any theatrical adaptations of Anne of Green Gables?

Shortly before I decided to enrol at UPEI, the community theatre company that I volunteered with in Kanata staged a production of "Anne of Green Gables (The Musical)" and I was recruited as a set painter. So I was very interested in the actual wallpaper at the Green Gables Heritage Site when I visited this year!  When watching the Members' Preview, I remember wondering what Montgomery would have thought of it, but came away humming "Ice Cream".

My nephew was also cast as "Gilbert" in another local community theatre production of "Anne and Gilbert" that I was looking forward to seeing just before moving to PEI, but then came COVID. I did get so see one number on video: a school performance of "You Must be an Islander", which somehow seemed appropriate given my destination.

How does your work at the Journal relate to your studies?

It seems that L.M. Montgomery can be connected to many aspects of Island Studies, especially since she was such a prolific writer.  When working on the Charlottetown Transportation Story Map, I was able to find several references in Montgomery's journals and letters that described what life was like at the turn of the century on PEI and in Charlottetown – for instance, I've realized that the train station of Anne's (and Maud's) youth was basically a wooden shed, but Montgomery would have been to the "new" train station when she met and travelled with Governor General Earl Grey in 1910. For my current research focus on island ecosystem resilience, it helps to have documentation of the past environment, and Montgomery's extensive writings allow me to visualize activities more than a century ago.

What excites you most about working with theJournal?

I'm looking forward to getting a deeper understanding of Montgomery and her works, and am also hoping to absorb some lessons in writing and the publishing process!  
Banner Image: Apple Blossoms at Green Gables Heritage Place, reminiscent of Anne's "Snow Queen".  Photo by Barbara Rousseau, June 2022.