The COVID-19 pandemic has brought many unexpected challenges and sorrows into people's lives.
At the same time, it has also given them the opportunity to, like Anne, find heroism in the decision
to be positive in the midst of extremely difficult circumstances … The orphan's resiliency and joyfulness,
as expressed through her indomitable imagination, allows her to give life "[her] best" and expect life
to "give its best to [her] in return." 
—Bonnie J. Tulloch, "Domestic Art Project"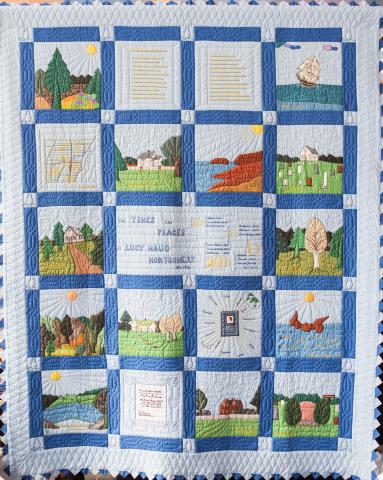 When Bonnie Tulloch wrote these words last spring to accompany the "Domestic Art Project" that she and Heidi Haering created for the June roll-out of the Vision Forum, few if any of us thought that in mid December these "extremely difficult circumstances" would be all the more difficult despite promises of a vaccine now being a reality. This "Domestic Art Project" compiled photos, descriptions, and brief video clips of domestic activities in which many were engaged: from gardening, music, painting, and poetry to cooking and baking, sewing and quilting.  

But what about those of us who are not so domestically inclined … or downright domestically challenged?

A recent addition to the Vision Forum, "L.M. Montgomery, Physical Books, and the Pandemic" by Rebecca Janzen (University of South Carolina), reflects on how in times of crisis we are drawn back to books that were so meaningful to us during our childhood. We return to them, and they give back to us in new and often unexpected ways. Montgomery's books, this reflective essay concludes, continue to inspire us "by their portrayals of the characters' connections with one another" to overcome obstacles and "work towards building a community like theirs" in which caring for others rather than self-interest is a guiding principle.   

As we close out 2020 and ring in 2021, Lesley Clement and Kate Scarth, co-editors of the Vision Forum, would like to share with you some of the armchair opportunities that being self-quarantined or curtailing activities outside the home have opened up beyond teaching and mentoring, working on LMMI and JLMMS projects, researching and writing, and attending far too many virtual meetings.
Participating in virtual book clubs and readathons. Instagram and Facebook Live have opened up many opportunities to host and engage in participatory reading. Of particular note to the Montgomery community is the L.M. Montgomery Readathon founded and co-administered by Benjamin Lefebvre and Andrea McKenzie, which began 30 March with Rilla of Ingleside and more recently focused on Jane of Lantern Hill and The Blue Castle. Keep an eye on the JLMMS website in the new year for an article featuring this readathon.
Attending virtual book launches. There have been many, so we will mention just three that were highlights, allowing us to travel from Saskatoon to Toronto to Washington, DC. Last week's Forum Monday mentioned Wendy Roy's virtual launch of The Next Instalment: Serials, Sequels, and Adaptions of Nellie L. McClung, L.M. Montgomery, and Mazo de la Roche, which took place on 10 December. Also on 10 December was the celebration of the release of Irene Gammel's I Can Only Paint: The Story of Battlefield Artist Mary Riter Hamilton. And for those of us (you know who you are) whose annual Louise Penny binge was sated this year with her release in September of All the Devils Are Here and who have always wanted to travel to Knowlton to attend her annual book launch, we instead got to travel virtually to Washington, DC. This year we were treated to a virtual book launch that put the author in conversation with Hillary Rodham Clinton and is now available on YouTube.
Participating in virtual roundtables. Again, the opportunities have been legion and not always as stimulating as the one that will be mentioned here, the "L.M. Montgomery Virtual Roundtable" hosted by Lindsay Murray, with Central Coastal Tourism, and Elizabeth Deblois, with Parks Canada. This roundtable featured presentations from the LMMI, the Anne of Green Gables Licensing Authority, and the PEI Association for Newcomers to Canada—"Annes of the World" Project.
Keeping sane beyond Montgomery-related projects. Here are a few of my (Lesley's) highlights from the fall:
►Taking tours of NYC's Met galleries and collections via their daily Instagram stories;
►Attending several lectures and discussions on Piet Mondrian, Vincent Van Gogh, and women photographers who use themselves as subjects, all hosted by NYC's Guggenheim Museum;
►Attending Junko Yokota's talk on "Interpretive and Hidden Controversies in Literature for Children," hosted by the University of Wrocław, Poland;
►Attending Åsa Warnqvist and Mia Österlund's keynote, "What About the Fat Girl in Fiction? Perspectives on Children's Literature, Girlhood and Fat Studies," and moderating a session on "Girls' Voices" (which included an excellent paper by Yan Du, "Locating Girl Writers Then and Now: The Emily of New Moon Trilogy and the Beginning of the Modern Girl Writer Story") for the "Conceptions of Girlhood Now and Then: 'Girls' Literature' and Beyond" conference, hosted by Linnaeus University, Sweden;
►Attending a webinar roundtable on "Men as Gender Equity Allies," hosted by the White Ribbon Campaign with Sophie Grégoire Trudeau and Humberto Carolo moderating and guests Hubert Davis, Michael Kaufman, Raine Maida, Natan Obed, Antoni Porowski, and Brendan Shanahan.
And what to expect in 2021? You might want to begin the new year by participating in the MLA conference's roundtable on "Rereading L.M. Montgomery's Rilla of Ingleside One Hundred Years Later" on Sunday, 10 January, 10:15-11:30 AM EST. Rita Bode, Lesley Clement, Heidi Lawrence, Andrea McKenzie, Laura Robinson, and Kate Scarth will facilitate discussion on how "the stories of loss, endurance, and survival" in Rilla of Ingleside—those pertaining to "the power of small things, vulnerability, womanhood, motherhood, death, and war"—are still relevant today.

We send you good wishes for a safe and healthy 2021. With the dates altered 99 years, we could all agree with what Montgomery wrote in her journal for 1 January 1922: "Nineteen-twenty-two should have a gallant heart. It has a hard task before it. The world is, as I heard a man on the train say the other day, 'upside down and inside out.' Such a world is in a bad plight. Will 1922 be able to put it right—or even start putting it right?"
♦ Lesley Clement and Kate Scarth, co-editors of the Vision Forum
Coming Next Year: Mentoring Mondays
Reminder: We are accepting content for the Forum until 31 December 2020.

Banner image of PEI waves. Anne Victoria Photography, 2018.