The end of this story is one of emergence:
Montgomery herself becomes one of the grand purveyors of absorbing reading for many generations, in many worlds.
—Mary Rubio and Elizabeth Waterston, Introduction, The Complete Journals of L.M. Montgomery: The PEI Years, 1889–1900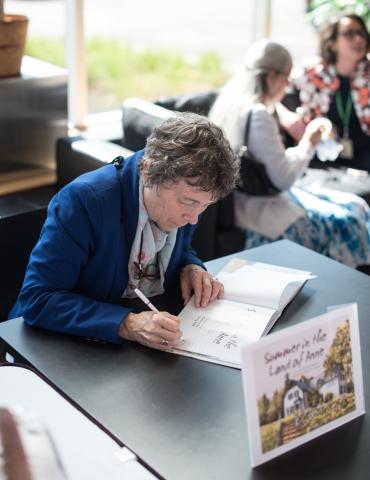 Last week's Forum Monday remarked that "Montgomery readers and scholars span the globe, sometimes making travel challenging beyond the restrictions that are a consequence of COVID-19," but that challenges and restrictions have "rarely prevented those from outside Canada continuing their research on Montgomery." This week's profiling of new books—translations, spinoffs and adaptations, and scholarly material—pays tribute to the creative writers and scholars who have produced new works over the past couple of years

Translations of Montgomery's works began with the Swedish translation of Anne of Green Gables in 1909, a year after its publication in English. Since then, Montgomery's work has been published in well over twenty languages. Although Anne of Green Gables is the most frequently translated, as the LMMI's exhibit of book covers from the Ryrie-Campbell Collection of "Annes of the World" demonstrates, other books are finding a wider audience through translation. There were four papers and one panel involving translations of Anne of Green Gables in the preliminary program for the cancelled 2020 conference—those proposed by Natalia Dukatova (Slovak), Irina Levchenko (Russian), Hiromi Ochi (Japanese), Beata Piecychna (Polish), and Emily McEwan, Mòrag Anna NicNèill (Marion A. MacNeil), and Etta Moffatt on the recently published Gaelic translation, Anna Ruadh—and one paper on the Emily series—proposed by Laura Leden on Nordic translations. What was surprising was the proposed paper on a recent translation of The Alpine Path into Japanese by the publishing house Kashiwa Shobo in June 2019. An essay by the translator, Toshimi Mizutani (Gakushuin University), "The Japanese Translation of The Alpine Path: The Story of My Career," outlining her reasons for publishing Montgomery's memoir and the challenges she faced, is now posted on the Vision Forum.

The Forum Monday posting for 16 November discussed the interest in stage and film adaptations and spinoffs of Montgomery's work. Again this interest has a global appeal, as illustrated by the essay mentioned in last week's Forum Monday, Meriel Dhanowa's "Animating Anne: How Akage no Anne Recreates L.M. Montgomery's Vision Through a Visual Medium," and an essay, "Emily Lives on in Finland: Two Finnish Poets Write Emily into Adulthood," by Mary McDonald-Rissanen, who was born and raised in PEI, did graduate studies in the UK and Finland, and currently lives in Finland, where she teaches English, lectures, and conducts research on language and literature. In this essay, she gives some personal and critical insights into the Finnish spinoff of the Emily series, Emilia Kent—Runotytön tarina jatkuu (2018) by Satu Koskimies and Vilja-Tuuli Huotarinen, which, she concludes, reunites the reader "not only with Emilia but also the age-old questions of love, marriage, and artistic aspiration."
These spinoffs and adaptations also come in the form of picturebooks. The presentation now posted in the Vision Forum—"Just in Time for Christmas: Children's Books Inspired by Montgomery and her Novels"—is a compilation that features seven picturebooks published in the last two years by Elizabeth and Carolyn Epperly, Kallie George and Geneviève Godbout, Kallie George and Abigail Halpin, and Kelly Hill. The authors of these books were asked to select an image and passage reflective of Montgomery's visual imagination and explain their selection.
In addition to translations and creative work, scholarly work carries on, whether undertaken on site or through digital access. Two recent additions to the Vision Forum indicate the kind of work that is being done. The first is a poster for The Next Instalment: Serials, Sequels, and Adaptations of Nellie L. McClung, L.M. Montgomery, and Mazo de la Roche, by Wendy Roy (University of Saskatchewan) and published by Wilfrid Laurier University Press, which was launched virtually on 10 December 2020 via Zoom Webinar. The reviewer for Canadian Literature praised the archival research that such a book demands and the author's treatment of her material: "Roy does an excellent job of transforming archival detail into historical narrative peppered with entertaining characters and interactions"; "A wealth of detail like this, scrupulously researched and engagingly recounted, is a fundamentally generous project, one that opens up possibilities for future scholars to build in multiple directions." This, after all, is the purpose of such research. The final new book to be mentioned will open up many, many avenues of exploration: Carolyn Collins's Anne of Green Gables: The Original Manuscript (Nimbus Publishing, 2019). Based on her 2020 conference proposal, Carolyn Collins (independent scholar) produced a video, "Envisioning Anne of Green Gables: How L.M. Montgomery Shaped a Classic," recently posted to the Vision Forum, that gives a glimpse into the author's revisions and suggests what the changes Montgomery made can tell us about her novel and writing process.
A highlight of the LMMI biennial conferences is the new book launch. Thanks to Bookmark for hosting the event virtually this year.

SUPPORT YOUR LOCAL SMALL BUSINESSES THIS SEASON.

Next Week: How Montgomery Inspires Us during Times of Crisis
Reminder: We are accepting content for the Forum until 31 December 2020.

Banner image of PEI waves. Anne Victoria Photography, 2018.