Emily of New Moon is out … The cover design of Emily is the prettiest one on any of my books I think. The little girl really does look as I imagined "Emily" looked. But there has been one weird mistake. The moon in the picture is an old moon, not a new one!
… The U.S. artist should really take a course in nature study.
—L.M. Montgomery's Complete Journals (29 August 1923)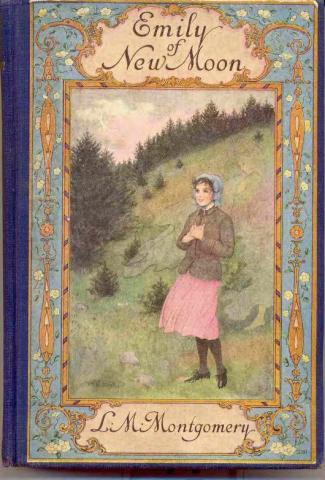 In the Q&A following his talk (29 October 2020) for the "Spencer G. Shaw Endowed Lecture Series," Brian Selznick discusses the book as an object and paratextual elements such as covers, stitching, and page edges. All are "part of the storytelling process," he says, illustrating with his best-known book, The Invention of Hugo Cabret. Although Montgomery did not have as much control over the design of her publications as Selznick, she certainly had her opinions on how her books looked as objects.
Several of the abstracts submitted for the LMMI's 14th biennial conference on "Montgomery and Vision" address Montgomery's interest in her book covers and design. Jaclyn Marcus (Ryerson University), for example, planned on considering how illustrators of first-edition cover images of the Anne series reflected Montgomery's fascination with fashion and used it to craft "a deliberately subjective Canadian identity that is centred within its environment and landscape."
What happens when the books are translated and packaged for audiences outside of North America? This "visual packaging" is something that Irina Levchenko (University of Vienna) outlines in her abstract on "Visual Representations of Anne in Russia," specifically how it affects gender roles and "the tension in the Anne novels between restrictive conventional expectations and female liberation and empowerment."
But it is not just the images associated with the Anne books that interest Montgomery scholars. In two Forum postings, Laura Leden (University of Helsinki) discusses her research on the paratexts of Nordic translations of a number of other Montgomery books: in a MaudCast hosted by Brenton Dickieson and in an article that discusses the book covers she has been featuring on her Instagram account, L.M. Montgomery Nordic. For her conference talk, she planned to discuss how "the Nordic paratexts convey a domesticated image of Emily by deemphasizing the role of nature, writing, and creativity, which is more apparent the younger the target audience is."
Other conference abstracts focus on how Montgomery's interest in paratexts becomes embedded within the texts themselves, especially noteworthy when the book is about storytellers such as Sara Stanley and Bev King. Andrea McKenzie (York University) is developing a paper that "examines Montgomery's The Story Girl and The Golden Road, contrasting her developing notions of artists, gender, and the power of oral and written narratives with the social perceptions of female artists shown on a century of book covers." Holly Pike (Grenfell Campus, Memorial University) approaches these two books from another angle, one that considers how "visual technologies such as illustrations, print, and writing are central to the experiences of the characters in these books." We look forward to reading these completed articles and others in the future.
Also posted on the Forum is Kate Scarth's video on "Exploring L.M. Montgomery's Book Covers," which discusses how book covers are instrumental to the storytelling process in "evoking a sense of place." Her video features material from the Ryrie-Campbell Collection on KindredSpaces.ca, an invaluable resource for researchers of the paratextual elements of Montgomery's books.
Next Week: Visual Inspirations
Reminder: We are accepting content for the Forum until 31 December 2020.
Banner image of PEI waves. Anne Victoria Photography, 2018.