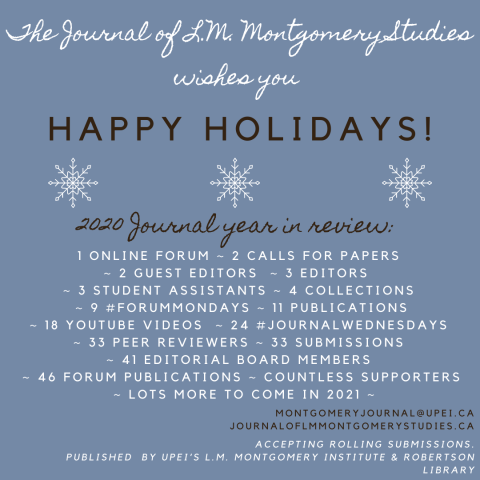 Dear Friends of the Journal of L.M. Montgomery Studies, 
The Journal of L.M. Montgomery Studies wishes you happy holidays and all the best for the coming year! 
To thank you for your contributions, we have assembled a 2020 Year in Review so you can see all that your support has allowed us to accomplish in spite of the challenges of this year. 
1 Vision Forum. As many of you are aware, the Journal of L.M. Montgomery Studies provides a home to the "2020 Vision Forum" that replaced the 2020 L.M. Montgomery and Vision Conference which was cancelled due to COVID-19. The launch week of the Forum was highly successful with 46 publications covering a range of topics presented in a medley of mediums, such as reflective pieces, longer essays, blogs, letters, news items, podcasts, video presentations, and video conversations. The Forum can be accessed on the Journal website, here.
2 Call for Papers. We have put out two calls for themed collections:
One is "L.M. Montgomery and Vision" which emerged out of the 2020 conference theme and is a Journal special collection distinct from the conference oriented "2020 Vision Forum." 
The second call is for "L.M. Montgomery and Mental Health." Don't miss your chance to take part: "L.M. Montgomery and Mental Health" is accepting abstracts until 15 February 2020!
Both collections will be ongoing projects for 2021. We are also always happy to receive submissions on Montgomery topics at any time.
2 Guest Editors. This year we were fortunate enough to acquire two guest editors: Tara Parmiter and Jean Mitchell.
Dr. Parmiter is a member of our editorial board and will be guest editing the "L.M. Montgomery and Vision" special collection with Lesley Clement. This collection will be published on the Journal website before being anthologized in a print edition. 
Dr. Mitchell, one of the Journal's two consulting editors, will, with Lesley Clement, be guest co-editing a collection for  the Journal entitled "L.M. Montgomery and Mental Health."  All members of our editorial board are welcome to suggest topics for a special collection to guest edit!
3 Editors (2 Co-Editors / 1 Editor). Co-editors are L.M. Montgomery Institute Visiting Scholars who edit thematic collections based on an LMMI conference, while also contributing to the overall running of the Journal.
Emily Woster of the University of Minnesota Duluth was co-editor of the Journal from 2018-2020. Not only is Dr. Woster co-editor of the 2018 "L.M. Montgomery and Reading" collection, but she was a major player in bringing the Journal of L.M. Montgomery Studies to life. Thanks, Emily, your hard work will continue to benefit the Journal for years to come. 
Our current co-editor is Lesley Clement, an independent scholar, recently retired from Lakehead University. Dr. Clement is co-editor of the "2020 Vision Forum," "L.M. Montgomery and Vision," and "L.M. Montgomery and Mental Health" collections.
Kate Scarth continues as Journal editor.
3 Editorial Assistants. The Journal employed three dynamic, hard-working University of Prince Edward Island students as assistants this year:
Alyssa Gillespie is the Journal's editorial assistant, handling communications (she's usually the voice behind the Journal email), organizing files and everything else Journal related, and bringing articles to life, including uploading text, adding multimedia, and making sure endnotes are all what they should be. (See her project, "Found L.M. Montgomery.") She also wrote this update on 2020 Journal activities!
Heidi Haering worked as an assistant for the LMMI, frequently providing digital expertise. (See her projects "L.M. Montgomery's PEI Map" and, with Bonnie J. Tulloch, "The Domestic Art Project.")
Darriel Rolle works on social media for the LMMI as well as the Journal.
Students have been funded through the Social Sciences and Humanities Research Council of Canada Connection grants for the 2018 and 2020 conferences, as well as general LMMI funds and funding from the Office of the President at UPEI.
4 Collections. The Journal is developing 4 themed collections (aka special issues): "L.M. Montgomery and Reading," "2020 Vision Forum," "L.M. Montgomery and Vision," and "L.M. Montgomery and Mental Health."
9 #ForumMondays: This year we added #ForumMondays to our Journal promotion, organized by Dr. Clement. These social media postings are dedicated to highlighting content from the "2020 Vision Forum." #ForumMondays allow for engagement on social media and increased exposure for L.M. Montgomery Studies. With the Vision Forum coming to a close, this hashtag will become #MentoringMondays in January, so stay tuned for new content that will help you prepare for the 2022 L.M. Montgomery and Re-vision Conference! Follow the LMMI's social media platforms, managed by Melanie Fishbane and Darriel Rolle, to see all the latest updates.
11 Publications. We are proud to announce that we have published 11 articles this year! Thank you to all our authors for submitting original and interesting pieces. We have published a blend of articles, creative pieces, audio/visual presentations, and media displays, including both peer-reviewed and non-peer-reviewed content. All articles can be accessed via the Journal landing page, as as under their relevant "Collection" on the website menu. 
18 Videos: This year we have posted a grand total of 18 videos on our Youtube Channel, all linked to Journal or "2020 Vision Forum" publications.
24 #JournalWednesdays. Every Wednesday the LMMI shares Journal updates—new publications, editorial board profiles, and other news—on social media with the #JournalWednesdays. Stay tuned to the LMMI's social media (Twitter: @LMMI_UPEI, Facebook: L.M. Montgomery Institute of UPEI, Instagram: @lmminstitute) and this hashtag (#JournalWednesdays) to keep up to date on the LMMI's and the Journal's activities!
33 Reviewers. Thank you to our 33 reviewers this year who lent their expertise, from a variety of academic disciplines, to the Journal.
33 Submissions. Over this year we have received 33 submissions! Thank you to all submitters for thinking of the Journal as a place to share your thoughts and research, as well as your creative responses to Montgomery's life and times, writing and legacy.
41 Editorial Board Members. We have added one new member to our international, interdisciplinary editorial board, which makes for 41 editorial board members. Welcome to the board, Dr. Yolanda Hood!
46 Forum Publications. The "2020 Vision Forum" has published 46 publications since June of 2020! There have been many exciting features, all of which are available on the "2020 Vision Forum" tab of the Journal Website (under "Collections"). All video presentations are also available on the Journal Youtube channel. 
Countless Supporters. The Journal is a community affair, and we have so much gratitude to all of you who make it possible! Particular thanks go to Dr. Philip Smith, Dr. Elizabeth R. Epperly, and the LMMI steering committee and to Kate Macdonald Butler and the Heirs of L.M. Montgomery Inc. Special thanks also to Donald Moses, Rob Drew, and Alexander O'Neill  (website development and maintenance), Simon Lloyd (archival and copyright expertise), Melanie Fishbane and Darriel Rolle (promotion and social media), Jane Ledwell (copyediting), the editorial board, reviewers, and authors.
Happy Holidays and here's to 2021!
Kate Scarth, Editor
Lesley Clement, Co-Editor
Alyssa Gillespie, Editorial Assistant 
journaloflmmontgomerystudies.ca
Follow the LMMI on Social Media:
Twitter: @LMMI_UPEI
Facebook: L.M. Montgomery Institute of UPEI
Instagram: @lmminstitute