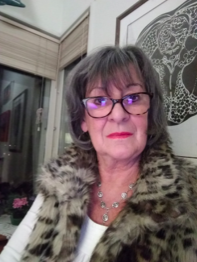 I was born and raised in Summerside, PEI where I attended St. Mary's Academy and then Kinkora Regional High School. I graduated from UPEI first in 1972 and again in 1981 with my BEd. In 1995 I obtained my MA (TEFL) from University of Reading (UK) and then continued studying at my home university - University of Tampere (Finland) where I completed my licentiate degree with my dissertation entitled Veils and Gaps: Women's Life Writing in Early 20th Century Prince Edward Island which focused heavily on LM Montgomery's Selected Journals. In 2008 I completed my doctorate with my dissertation Sandstone Diaries: Prince Edward Island Women's Nineteenth- and Twentieth-Century Life Writing which was published by Mc-Gill Queen's University Press in 2014 and entitled In the Interval of the Wave: Prince Edward Island Women's Nineteenth and Early Twentieth Century Life Writing. After working as an English lecturer for 40 years I continue to write on PEI women and am currently preparing a paper to present at the German Association of Canadian Studies conference entitled " 'The very stuff of bodies and nature' - An intersectional approach to studying women's performances in writing and art." Throughout my career I have regularly lectured and presented academic papers in numerous European locations and have been an active member of the Nordic Association for Canadian Studies. Naturally LM Montgomery and her literary legacy have been an important element for Finns to identify with my birth place and relate to my cultural heritage. This association has brought many rewarding and interesting opportunities as Montgomery continues to be highly appreciated and studied in Finland.
What does being an editorial board member mean to you? 
I was flattered to be asked to join the Journal's board!  I will gladly serve as a link between where I live - Finland - and where I am from - PEI. One of the latest events here related to Montgomery is the publication of fan fiction by two Finnish poets, Satu Koskimies and Vilja-Tuuli Huotarinen, entitled Emilia Kent -Runotytön tarina jatku, roughly translated Emily Kent – the girl poet's story continues. My reflections on Emilia were published as part of the 2020 Vision Forum hosted by the Journal.
One of the most memorable events in Finland regarding Montgomery was a stage production of Anne of Green Gables in two different Finnish theatres, one  in Helsinki, at Pieni Suomi (Little Finland) and another in Rauma. I particularly remember the one in the Rauma City Theatre, a small and intimate theatre on Finland's west coast. My mother was visiting Finland then and together we took the trip over snowy country roads to see Anne. I can still picture the posters, stage sets, and the characters so brilliantly portrayed, and that was at least 30 years ago!