By: Abbey McRoberts, Student Assistant, L.M. Montgomery Institute
The Journal of L.M. Montgomery Studies is proud to have Lesley Clement as part of our team. Her dedication and passion vitally contribute to the Journal's success. She is currently the L.M. Montgomery Institute Visiting Scholar and overall Journal co-editor. In these roles, Lesley helps guide the Journal's direction while also co-editing, with Tara Parmiter, the special collection on L.M. Montgomery & Vision,  the LMMI conference theme for the year of Lesley's visiting fellowship. Alongside the Vision collection, she co-edited, with Kate Scarth, the online  2020 Vision Forum,which replaced that year's 2020 in-person conference cancelled because of COVID-19. Through the creation of the Forum, Lesley coordinated Forum Mondays to share Vision material with audiences every week.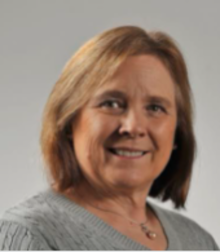 Lesley also initiated the L.M. Montgomery Institute Mentorship Program which pairs emerging scholars with mentors to provide input on scholarly work. Along with the program, she curated Mentoring Mondays where mentors provide advice on a range of scholarly topics each week on the Journal's news platform. Through her many roles, Lesley is an essential part of the Journal team. We at the Journal are looking forward to seeing Lesley's next collection, L.M. Montgomery and Mental Health, co-edited with Jean Mitchell.
I asked Lesley a few questions about her scholarly work and connection with Montgomery, specifically the Montgomery & Vision collection, to highlight her exceptional work for the Journal of L.M. Montgomery Studies.
1. What is your L.M. Montgomery origin story, and how did this interest turn into scholarship?
Lesley highlights how her interest in Montgomery began at a young age in her Visiting Scholar interview. In this interview, Lesley says,
I grew up on the Kennebecasis River between Saint John and Rothesay, NB. I spent many summer days in a secluded rocky nook overlooking the river with the Anne books, the first being my father's copy of Anne of Green Gables, which I still have on my bookshelf. Here I learned the power of books to enter other worlds and to see life through others' eyes. I can think of no better preparation for a scholar of literature than the books read in childhood.
It's so interesting to see how a childhood passion can turn into a career. Lesley's journey with Montgomery is expanded on in Rita Bode's article on Lesley as a keynote speaker at the planned 2020 Vision conference. Rita tells us that "Lesley had often included Montgomery in the courses that she taught, and she is a lifelong reader of Montgomery, but it was the 2006 LMMI conference that made her realize the extent to which her own theoretical interests in visuality and empathy, ways through which she explores picturebooks, offered a promising subject for research and scholarly exploration in Montgomery's work." 
2.  Where did the idea of this special collection on Vision and L.M. Montgomery come from?
Lesley explains how "the conference theme was Vision, so the special collection grew out of this."
3. This theme focuses on L.M. Montgomery's life and works through the lens of vision. What is your personal vision of Montgomery?
Lesley expresses her personal vision of Montgomery by saying, "Montgomery appeals to a wide demographic, cutting across cultures, generations, stages of life, and so on, through her powerful character creations and nature descriptions that encourage readers to visualize and empathize with the animate world."
4. Vision is a broad theme that inspires many to write on topics such as how Montgomery "sees" the world through her writing. Has her writing changed how you perceive the world/ Prince Edward Island?
Montgomery has a great impact on how many readers perceive the world, and Lesley describes her own experience: "I touch on this in the blog that Rita Bode wrote as well: the connection between the visual and empathy. Empathy is different from 'identifying with' (or 'intimacy' and 'sympathy'). I develop this idea in my essay 'The Empathic Poetic Sensibility: Discerning and Embodying Nature's Secrets,' in L.M. Montgomery and Matter of Nature(s), edited by Rita Bode and Jean Mitchell. I have also been fascinated with how this connects to the creative process and how this relates to 'self' and letting go of 'self,' something Montgomery touches on when in a 1925 journal entry, she writes that a fluidity of perspective distinguishes the dreamer and her escapist dream world from the artist and the shaped fictional life of a story: 'These dream lives are altogether different from the stories I 'think out.' When thinking out a story I am outside of it—merely recording what I see others do. But in a dream life I am inside—I am living it, not recording it.'"
 5. What do you hope this special collection on Vision achieves? What do you hope to learn from it? What do you hope that others take away from it? 
Lesley elaborates further on her hopes for the Vision special collection by telling us, "the theme of vision inspired a number of different approaches, from surveillance to talking with one's eyes, double vision, the gaze, darkness/shadow and light (and all its metaphoric implications), visual reading, visual technologies, visual culture, and much more, which we hope that the collection will capture. Montgomery offers so many different paths into her work, so many different ways of seeing it."
Acknowledgement: Banner image derived from Book cover of Anne's House of Dreams. 1980. Kindred Spaces. 005 AHD-AR.